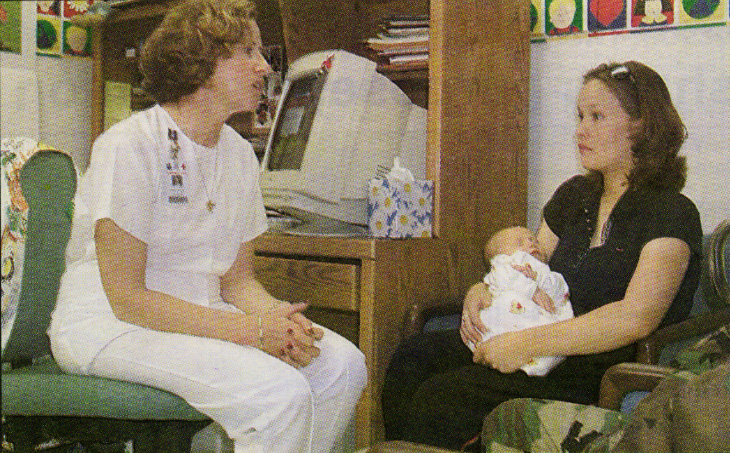 Carol Durham, RN, MSN, IBCLC, advises a new mother on breastfeeding at the Eglin Air Force Base, Florida, regional hospital. The Air Force is by far Carol's largest client, and recognizes the cost savings of good preventive medicine for their active duty members and military dependents by promoting breastfeeding and providing the important services of a board certified lactation consultant.
(US Air Force Photo by Senior Airman Nicholasa Brown)
The military services are recognizing the great benefits of breastfeeding for the health of each new mother, who is either a female service member or dependent, and her baby. As health care costs become more critical, the advantages of reducing those costs through good preventive medical practices such as breastfeeding should weigh heavily within military healthcare.

Check with your local military hospital or clinic for classes on breastfeeding and for breastfeeding support through lactation consultants, nurses, physicians, and other providers. If you are not collocated with a military health facility and receive all health services through Tricare, check with your servicing Tricare office for the latest eligibility rules concerning breastfeeding support.

If you are in the Eglin Air Force Base-Hurlburt Field area in the Florida Panhandle, the 96th Medical Group at the Eglin AFB Regional Hospital has a contract with Carol Durham to provide lactation consultant services. Carol conducts breastfeeding education classes, primary care for new moms delivering at the Eglin Regional Hospital, and outpatient services at the hospital by appointment.

If you need an appointment at Eglin, call central scheduling at the hospital: (850) 883-8600.

Breastfeed For Health!
---
Principal Lactation Consultant
Carol Durham, Registered Nurse (RN), Masters of Science in Nursing (MSN, Maternal Child Health), International Board Certified Lactation Consultant (IBCLC)
click here for Curriculum Vitae